Hallmark Industries 1HP Deep Well Submersible Pump Review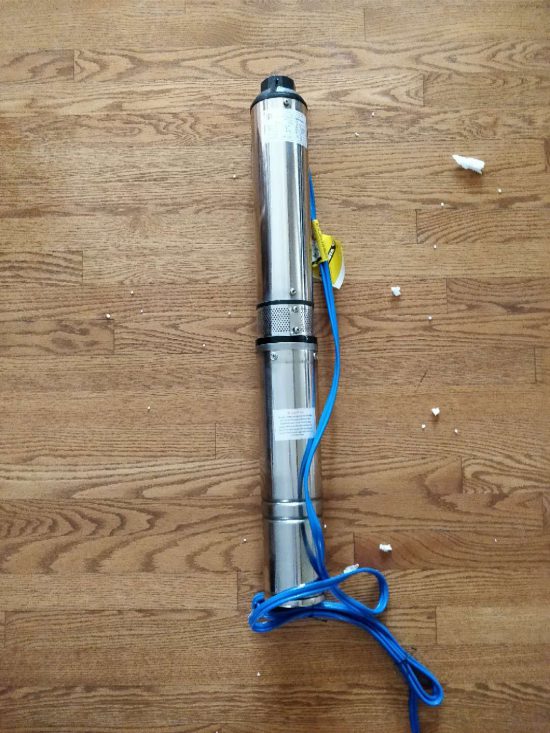 For this review we will be taking a look at the Hallmark Industries Deep Well Submersible Pump, model number MA0414X-7A. This is the most common pump we use when doing installations.
This model and model number MA0414X-7 are exactly the same except for what voltage they are wired for. The MA0414X-7 is wired for 110v while the MA0414X-7A is wired for 220v, so be sure to keep that in mind when selecting your pump. Don't know what pump you need? Take a look at our guide on selecting the right pump.
The box comes nicely packaged with styrofoam inserts to protect the contents. It comes with an extremely thorough instruction manual, which is also uploaded on the manufacturer's website here.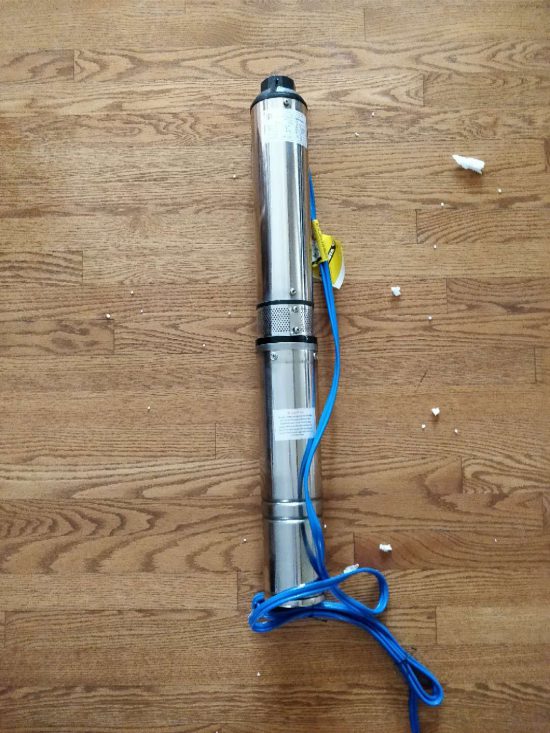 My first impressions on this pump is that the build quality is actually very nice. The entire pump is made of stainless steel, and the top part of the pump where it meets the piping is made of cast iron. The cast iron is especially important to me because it will be supporting the weight of the entire installation, which means that a sturdy material like this is essential.
The pump comes with a 10 ft wire, which you will then have to splice additional wire to get it up the well to your power source. It would have been nice if they included a longer wire, but it's not a huge problem.
Also included in the box is some electrical tape for splicing your wires. This is not the best choice for wire splicing, especially in the high wear-and-tear environment of a pump installation. I would recommend getting some heat shrink tubing instead, as it only costs a few dollars but provides much greater protection to your wires.
It's always a good idea to test the pump in a bucket of water first to see if it is running correctly. It's pretty rare to get one that doesn't work right out of the box, but a test wouldn't hurt.
Looking at the inside of the pump, there is a check valve at the top. However, it is made of plastic, which does reduce the reliability of the pump. This can be remedied by purchasing a separate brass check valve and placing that on top of the pump.
When I first got one of these, I thought that my pump had been missing a control box. Upon calling their customer service, I found out that their pumps have a built in control box/capacitor, which definitely makes things more convenient.
Speaking of, the Hallmark Industries customer service is very accessible and pretty darn helpful. The company is located in Chicago and their support line is open 9-5 weekdays, allowing you to call in if you need help installing your pump.
So, here is a quick recap of the review:
Pros
+quality build materials (cast iron/stainless steel)
+built in control box
+affordable price
+good customer support
Cons
-inadequate splice kit
-plastic check valve
Overall, the Hallmark Industries Deep Well Submersible Pump is a great buy for the money. You will need to purchase some additional materials such as a check valve or heat shrink tubing, but other than that the pump does its job and does it well.