Choosing a Shallow Well Jet Pump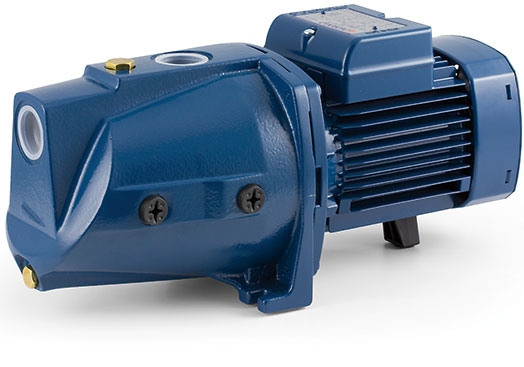 Unlike deep well jet pumps, shallow well jet pumps do not go inside the well but rather sit next to it on ground level. These jet pumps are ideal if you have a well head of less than 30 feet.
How it Works
Since jet pumps are for shallow wells with well heads of less than 30 feet, they do not need to go inside the well. In addition, they typically come with a pressure switch included, to be used for a pressure tank. These pressure switches have 3 ratings, in PSI: 20/40, 30/50, and 40/60. You can see which pressure switch comes with which pump in the table below. For example, in a 20/40 switch the pressure switch will turn the pump on until the pressure tank reaches 40 PSI. Then as water is being used from the tank, the pressure inside will drop to 20. At that point, the switch will turn on the pump again until it reaches 40 PSI, repeating the cycle.
As for the pump itself, it will have both a suction intake and a discharge. As noted before, all jet pumps have a max suction head of 30 feet. However, more powerful jet pumps are more capable of handling higher output head. So if your pressure tank is at a higher elevation than your pump, then it is important to look at the max output head column. When comparing these numbers, only the vertical distance from your pump to your pressure tank will matter. Any horizontal distance will not affect the jet pump.
For more technical information on the pumps, view the manufacturer's website here.